Collaborative Art
You can participate in many ways here!
For starters, check out the Bellybutton Gallery and add yours to the group! Post it online (maybe at flickr) and send me a message asking me to include it in the anonymous Bellybutton Gallery.
Imagine how attuned we'd be to all the differences in bellybuttons if we used them instead of faces to recognize each other.
Help build our collection of saying "Thanks for the Orgasm" in every different language!
Crowd-source Religious Proselytizing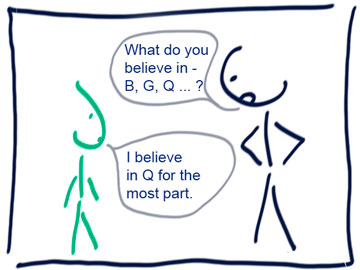 Open Source Religious Proselytizing – see the complete cartoon and project here.
Do you hate proselytizing as much as I do? Do you know web database programming and want to make this project actually work? I'd love to talk with you!
We have many collaborative art projects that we will roll out over time.
To hear about more, subscribe to our email list!
More Projects to come:
A Special Kind of "-ness" Project
Bhutanize Us
Fuck War