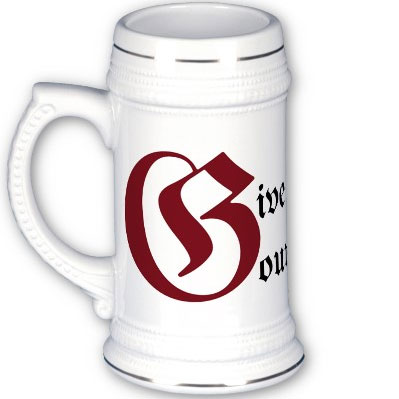 Joy, joy, joy!
I received an email from a customer who bought this beer stein for her boyfriend for his birthday.  It's available from Our Taboo Museum Shoppe and proclaims in Olde English, "Give us this day our daily head."
She wrote that he loved it.  He also noted that there was some lost time to make up for.
I suggested that she remind him that the operative word was "our."  She wrote back that he said, "All the better!"
Woah!  I say congratulations to the happy couple!
Imagine that!  People applying this prayer to males And females!  And they're using the Platinum Rule – do unto others as they would prefer having done unto them.
As I began crocheting the original doily that became the inspiration for this stein, I was enjoying a little fun with prayer.  But then I remembered a number of early partners of mine who eagerly received but would have nothing to do with reciprocating.  No experimentation, no discussion, no interest whatsoever.  I was too young to realize it had nothing to do with me.
As I crocheted, I got angry as I worked through the word "our."  I'm surprised I didn't break any threads.  This doily became a political statement for me as well as a simple funny twist of a prayer.
While talking with attendees at my first doily show, one male responded, "What could be better than that?"  With the demeaning ways I saw him treat his wife, I cringed to think how he might consider the doily a statement about everything he was entitled to.
So nice to hear about people who get this prayer and know how to use it!
PS: I suppose the title should have stated even-tongued instead of even-handed.